Shepard Fairey – Life and Biography
Controversy, Copyrights and Graffiti
Shepard Fairey is a polarizing figure in the world of street art. His major works have made as much of an impact as the works of Space Invader and Banksy, although Fairey does not hide his face or change his voice when appearing on camera.
His art is distinctly political, and Fairey frequently supports social causes and opposes corporate influence. He also profits off his most popular anti-corporate pieces, which angers some of his contemporaries.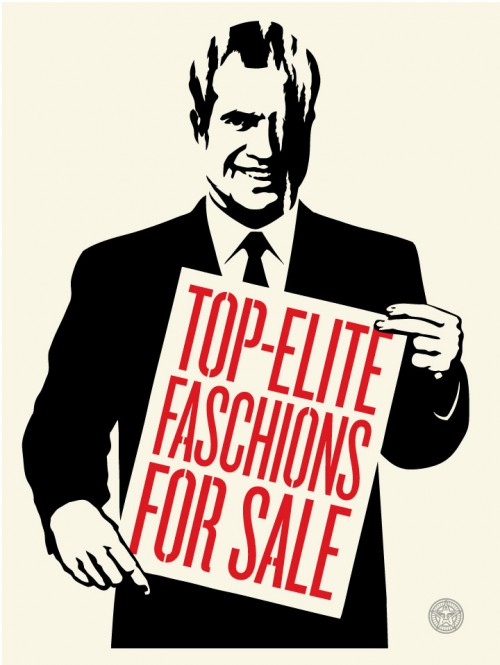 Born in Charleston, South Carolina, Fairey had a reasonably comfortable childhood. He attended the Idyllwild Arts Academy and the Rhode Island School of Design, graduating with a Bachelor of Fine Arts in 1992. A longtime skateboarder, Shepard easily became absorbed in the world of street art, and while he was still attending school, he began experimenting with using stickers on stop signs and walls.
In 1989, Fairey made his first major viral work, although at the time concepts like "viral" didn't exist in relation to art. Fairey created an image simple and confusing enough to spread rapidly across the United States through word-of-mouth and an untold number of sticker sheets.
"Andre the Giant Has a Posse" was a portrait of wrestler and actor Andre the Giant with a scrawled message next to the Giant's head. Fairey had no political purpose in mind when designing the image, simply hoping to inspire his viewers to think about their surroundings.
He soon removed all of the color from the image and wrote "OBEY" in a stylized font beneath it, borrowing the slogan from John Carpenter's anti-authority horror movie, "They Live!"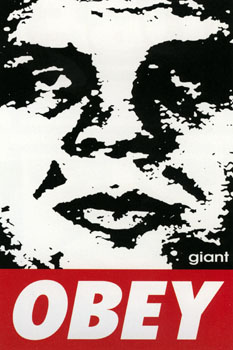 OBEY caught on, and within a few years, Fairey's stickers were on stop signs, walls and college campuses across the United States. The more the OBEY message spread, the more importance people attributed to the perceived message of resistance and purposeful opposition to corporations, politicians and authority figures.
"It gains real power from perceived power," Fairey said later.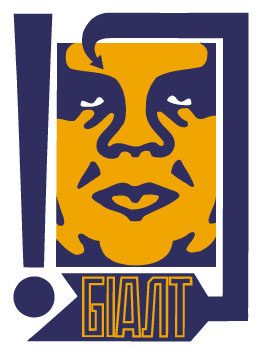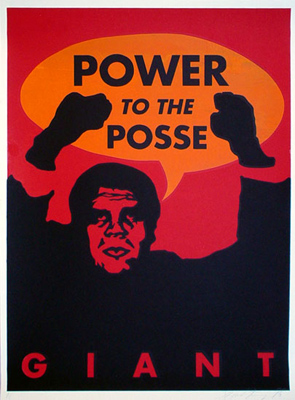 The lack of a coherent meaning was a fundamental part of Fairey's early work.
"Question everything," Fairey said when asked about the messages behind his images. As vague as this may seem to the uninitiated, the message resonated with the urban art community; OBEY became arguably the most ubiquitous, infamous street image of the 1990s.
The Obama HOPE Poster
In 2008, it seemed as though Fairey would never have a press interview that described him as anything but the creator of the OBEY sticker. Fairey probably wouldn't have minded that fate–many artists struggle in obscurity their entire lives without creating a single well-known piece, and OBEY's popularity had exceeded his wildest dreams. However, he was about to introduce his most successful and controversial work to date.
Fairey created a number of posters for Presidential hopeful Barack Obama, using stylized portraits of the Senator with words like "Progress," "Vote," "Change" and "Vote" displayed across the bottom in large letters.
The posters spread and were parodied by conservatives and embraced by Obama's supporters. Talking heads on TV debated the significance of the portrait and Obama himself sent Fairey a note of thanks.
The 2008 election was one of the most viciously contested in recent history, and Fairey's image undoubtedly had some effect on the result. Some cities, including Obama's home city of Chicago, put up hundreds of copies. The Smithsonian even obtained a copy of the portrait for their permanent collection.
Almost overnight, Fairey was one of the biggest names in contemporary art.
Politics As Usual
In light of the HOPE poster's success, Fairey stepped up his production, creating inflammatory, politically charged posters that criticized the status quo and corporate culture.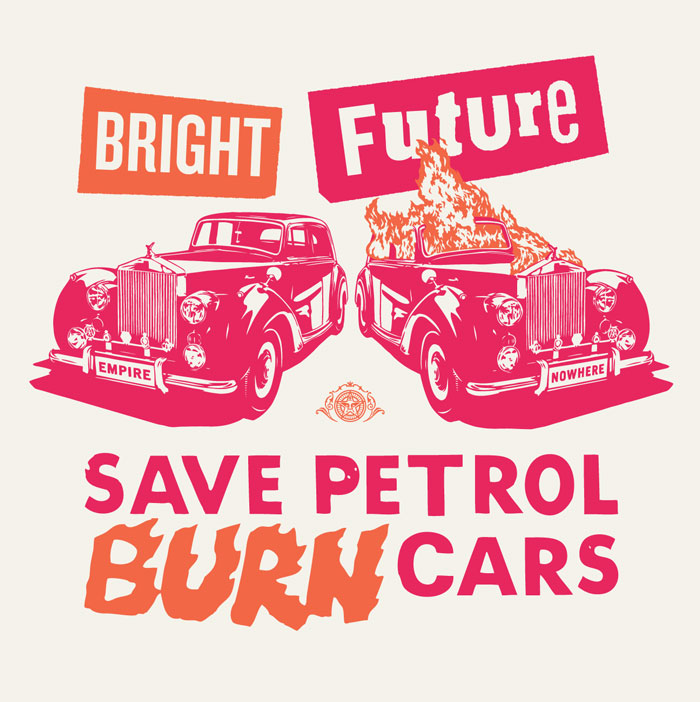 He was building his own Posse of dedicated fans faster than ever before, and Shepard was conscious of his new status as a counterculture celebrity. He supported the Occupy Movement in 2011, changing his Obama portrait to challenge the President directly.
During this time, Fairey revisited his previous works with a less subtle reference to John Carpenter's They Live!: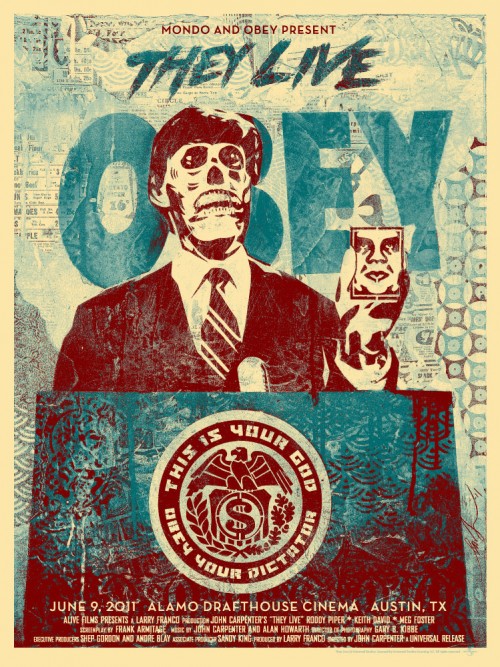 Fairey also created posters to support causes, most notably the charity efforts in Haiti through Artists for Peace and Justice.
In 2011, Fairey's art graced the cover of Time Magazine's Person of the Year issue. His stylized portrait of an Occupy protester helped the movement continue to build strength in the face of waning public support.
Financially, Shepard was doing well. He displayed his art in numerous exhibitions starting with the Boston Institute of Contemporary Art and quickly proceeding to the Los Angeles County Museum of Art, the Victoria and Albert Museum in London and numerous other venues around the world. He appeared as a character on The Simpsons and spun records at clubs under the moniker DJ Diabetic. Fairey was rapidly becoming America's most famous and influential artist until a lawsuit threw his career into serious jeopardy.
Legal Troubles and Conviction
Although the HOPE poster reached even more people than OBEY and catapulted Fairey to international fame, the artist immediately faced legal issues for using a copyrighted picture of Obama without a license.
Mannie Garcia, an Associated Press photographer, took the original picture. As the AP brought a civil suit, Shepard had a great fair use case. His legal team helped him promote the idea that "copyright law was not created to stifle creativity," an opinion that he discussed in numerous interviews as the case began. Fairey seemed on his way to mounting a successful defense.
However, Fairey intentionally mislead the Court by destroying evidence on his own computer. When the Court found out, Fairey's lawyers refused to represent him, and Shepard faced criminal charges. On his website, Shepard took full responsibility for tampering with evidence and accepted a sentence of 300 hours of community service, two years of probation and a sizable fine of $25,000.
"My wrong-headed actions, born out of a moment of fear and embarrassment, have not only been financially and psychologically costly to myself and my family, but also helped to obscure what I was fighting for in the first place," Fairey wrote, "the ability of artists everywhere to be inspired and freely create art without reprisal."
Even so, Fairey's actions have not always matched his stated mission of protecting artists' ability to correct. In 2008, he sued artist Baxter Orr for creating and selling a piece based on Fairey's Andre the Giant portrait. The image featured Andre with a protective respiratory mask over his face, parodying the original by replacing the "OBEY" message with "PROTECT."
However, Fairey has argued that Orr is well-known as an intellectual property thief and that the lawsuit will compel Orr to stop using other artists' works.
HOPE Fallout and Current Works
Amidst the HOPE poster controversy and numerous commissioned gigs, some of Fairey's contemporaries and former fans have accused the artist of selling out. Fairey addressed these accusations on his website by explaining that street artists need money to create their work.
"I look at myself as someone who wants to empower artists (including myself) and so I refuse to subscribe to a dysfunctional standard toward street artists that does nothing but hold us back," he wrote. "I've been called a sellout for using platforms for my art other than just the street, but I think there are many valid ways to share one's art with the public and many valid ways to solve the difficult problem of surviving financially as an artist."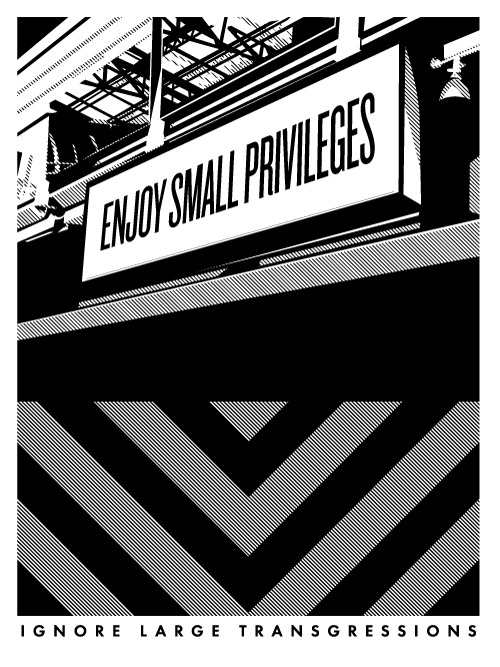 Fairey is an extremely controversial figure and an undeniably strong voice in the world of urban art. He has created some of the most famous street images in history, and although his legal troubles disappointed some fans, it is difficult to say that Fairey's influence is diminished.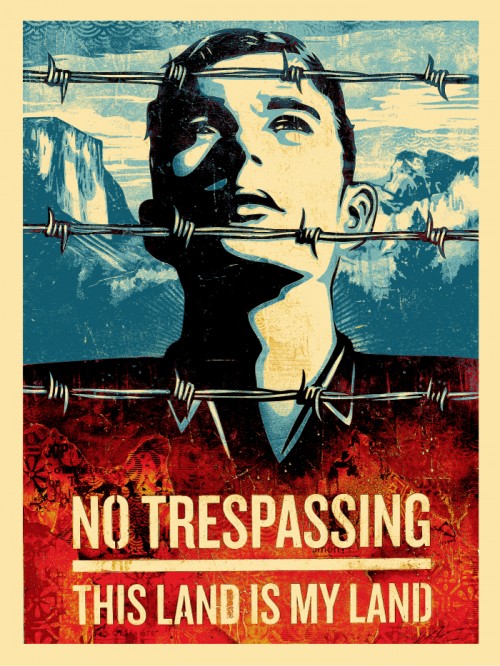 Although he is one of a handful of street artists who have made a safe transition to the gallery, he is still an active figure on the streets of cities around the world, whether through new works or the iconic OBEY, which continues to spread. Fairey was one of the first viral street artists, a powerful dissenter and, eventually one of the most outwardly political artists of our time.