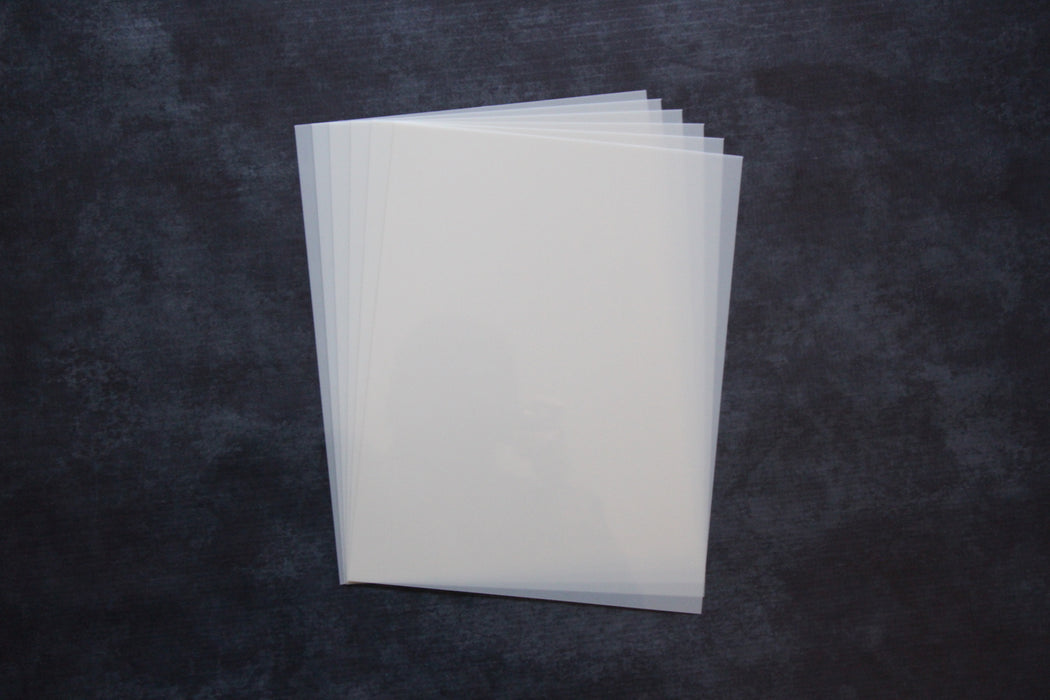 Blank Mylar Stencil Sheets
We're proud to offer the highest quality stencil material available, authentic Mylar sheets. 10 mil (250 micron) frosted Mylar sheets in 5" x 6", 18"x12" or 8.5"x11" size sheets. Quantity is 10 sheets per pack. We know how tough it can be to find the right material that will be the same consistent quality you expect. You're guaranteed to receive authentic Mylar (officially licensed by DuPont) at the desired thickness every time you order with no exceptions. Our material is incredibly durable yet flexible enough for a variety of applications. They're food safe blank stencil sheets and we stock them strictly in the "frosted" or "milky" color. Other colors are available upon special request. We find that the frosted stencil sheets are the most versatile and visually appealing for the finished stencil when compared to translucent materials.
What is Mylar made of and what are its properties?
Mylar is a polyester film (or PET) that is used for a variety of industrial applications. It can handle temperatures of -10F to 300F and has a resistance to most chemicals. We can provide a full spec sheet upon request.
Can these stencil blanks be used in a laser cutter?
Of course! This is the exact material we use for our stencils here at Stencil Revolution. We've tried a variety of materials and found that Mylar is by far the best performing and best looking stencil material available. There is little to no discoloration from cuts and the material reacts great with the laser resulting in minimal melt. This helps us create precision cut stencils that our customers love.
What about hand cutting and DIY projects?
With a sharp Xacto knife you can cut this material no problem. You can also draw on it before hand with a marker to trace your design.
Is it washable?
Yes with soap and water it can be washed very easily. That is the beauty of this material, since it is resistant to most chemicals it can handle a variety of paints and cleaners.
How durable is Mylar? How flexible is it?
Without a knife or pair of scissors you aren't cutting these blank mylar sheets. With a sharp blade it can be cut fairly easy but you will need to replace blades quite often to get a smooth cut. It's also very flexible for bending around different surfaces such as a glass or bottles for etching.
What about adhesive backed, acetate, magnetic stencil material?
We're not big fans of adhesive backed since it's only a one time use. This really defeats the purpose of a good stencil. A great alternative is to just use an adhesive spray which can be removed after use. For customers who need to apply the stencil to metal quickly, there are adhesive backed magnets which can be attached at each corner of the stencil. Then acetate is just a low quality material we refuse to work with.